There is so much competition on the platform that it can feel impossible to figure out how to stand out and offer value. So, pitching prospects on LinkedIn, trying to join the audience to your product community avoid typical sales manager`s mistakes producing spam.
Doubtless, LinkedIn is a very powerful platform to generate leads. It is 277% more effective than other social networks. Due to multi-channel prospecting, you can combine a LinkedIn marketing strategy with cold emailing.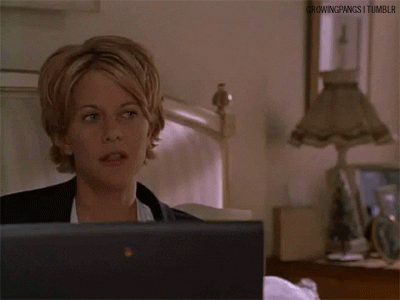 As usual, the most common LinkedIn sales prospecting methods include:


Use search filters to find your target audience.
Cold outreach and social selling campaigns.
Sending InMail messages.
Sending highly personalized connection requests and follow-ups.
Joining and participating in relevant LinkedIn groups.
This social media platform is one of the best opportunities for finding B2B leads in almost any sector, and because it's a networking site, prospects are expecting pitches.


The solution comes from learning how to craft a sales pitch that makes leads take notice. 
In this article, we'll show you an easy strategy for crafting the perfect LinkedIn sales pitch (with some bonus templates to get you started).
Is your LinkedIn lead generation being hampered by the new LinkedIn limits? Here's everything you need to know. 
Creating a valuable Sales Pitch
Sales pitch aims to communicate the value you can offer potential customers. The best sales pitches appeal to emotion or rational sensibility while being attractive and interesting.
In case no one has the time or attention span to read a long sales pitch; you need to communicate your value proposition and grab your prospect's attention quickly. This is why it's so important to spend time creating your sales pitch so it's optimized for LinkedIn.


To be persuasive, we present some statistics:
Just about 24% of sales emails are opened – you better have a good pitch for when yours is.
65% of sales managers who use social selling fill their pipeline (using platforms like LinkedIn).
61% of customers agree that being provided with the right information is the key factor to making a purchase decision.
The Features of an Effective Sales Pitch
An effective sales pitch includes obvious elements of cold outreach. 
Use the AIDA method
A – Attention grabber with a punch line.
I – Interest: what is your value proposition?
D – Desire: how does this proposition meet the prospect's needs?
A – Action: Call To action or incentive to respond.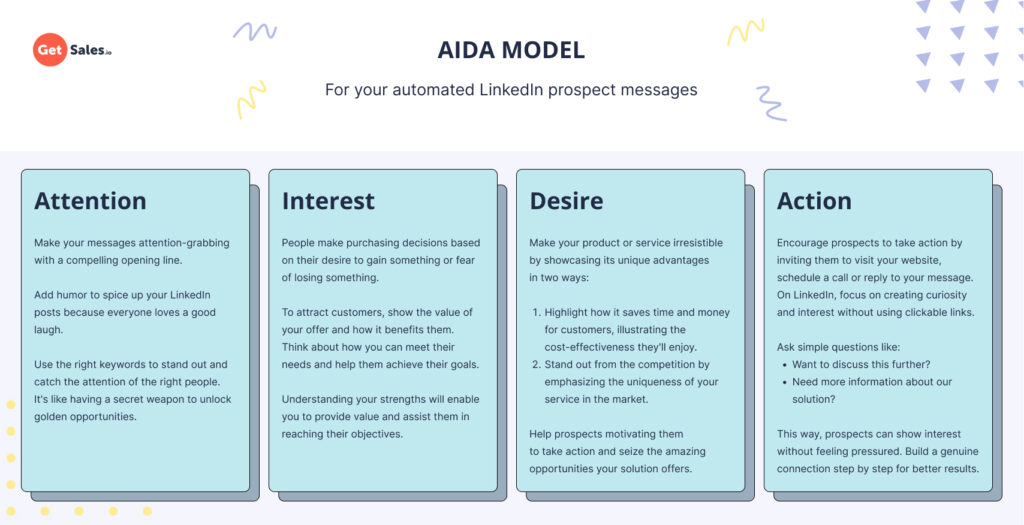 If you've done zero research and don't know anything about the person you're pitching, prospects understand when they're being fed a generic sales pitch by business owners.
The more you segment your searches and have campaigns composed of qualified prospects, the more personalized and impactful your messages will be. It is significant to identify the target.
Before you send a connection request, you need to do some research on your prospect: 
What is their full name?
What is their job title?
What size company do they work for?
Have they had any recent articles published, success stories, etc.?
Do you have mutual contacts?
Being familiar with this information from LinkedIn data scraping will make your pitch much more personalized and help you grab the prospect's attention.
Here's an example of a well-researched pitch compared with a generic one: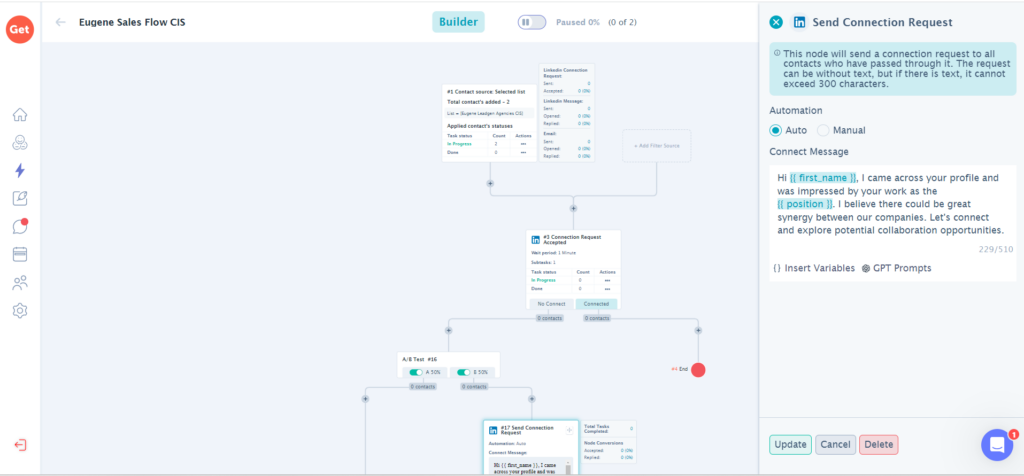 The pic shows you've put effort into your research and you're confident your prospect is the right fit for your service. Try to avoid making a spam LinkedIn message that gets mass sent to everyone.
Defining the problem, offering a solution
A good sales pitch will recognize the problem a prospect is facing and then suggest the product or service as the suitable solution.  For any prospect to make a buying decision, they need to have a current problem. And that problem needs to be causing enough friction for the customer to want change. If they can't recognize a problem, they won't want to spend money on a new product or service.

Think "added value", that`s what do I bring to my future customer. You don't sell in 2023; you incite to buy by showing the value proposition of your product or service.
The most persuasive way to convince someone to book a meeting with you is to make the benefits crystal clear. And the easiest way to do that is with stats and figures:
We can help you make an extra $12,000 in revenue this quarter. 

We'll cut your lead generation time in 4 times. 

Our scheduling tool will save you 10 hours every single week
Prospects are drawn to numbers, so if you can quantify the gain they stand to achieve, you'll grab their attention. This doesn't have to be results you can get for your lead either. Social proof and previous case studies also have the same effect.  
Emphasizing a sense of urgency helps to move the prospect along with your sales funnel more quickly. If you give them too much time to mull over your offer, they are more likely to talk themselves out of it. An easy way to add urgency without being pushy is to mention the expiration date of an offer or schedule a meeting date:
Our trial discount is open until 2023, so I would love to set you up with a demo before it ends. Does Wednesday at 3 pm work for you for a quick call?
You'll encourage your prospect to follow up with you faster, shortening your sales cycle by creating just a subtle sense of urgency.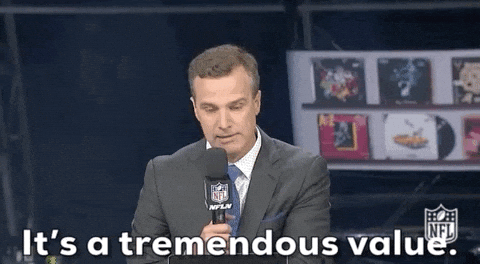 Buyers always want to feel like they're getting a good deal, so framing your pitch to include added value will help your conversion rates. When you've done a good competitor analysis, it becomes easy to offer additional value to your prospects.
This doesn't mean you have to add extra products or services, either. If you have done the research and know your prospects are used by competitors, simply list how your service exceeds. Stay respectful talking about your competitors` offers.
Many salespeople may miss out on this step, but it's probably the most important. Salespeople can often feel pushy following up with leads, but it's an important part of the pitch process if you want to see better conversion rates. 
Around 60% of prospects say no four times before finally making a purchase. And almost 75% of buyers want to be followed up with four times. In fact, 12% of companies want vendors to send a follow-up message as many times as it takes to get a yes – that's some solid commitment to the deal. 
What to Do Before Approaching a Prospect
As LinkedIn is a networking platform, the more familiar you can get with your prospect before reaching out, the better your chances of a positive reply. There is some extra effort you need to put in first before you send a connection request to a prospect on LinkedIn. 
Make sure your summary is updated
If you send cold messages to a prospect and get them interested, probably they're going to click over to your profile and take a look. Your summary, in particular, needs to communicate what you do, who you work with, and the results you get. 
Your LinkedIn profile should be updated with fresh attractive content and constantly active. Post links, articles, videos, and pictures to highlight your brand and show potential leads you know what you're talking about. See the tips on How to create your LinkedIn profile to Boost 🚀 Your Sales. If you haven't posted anything new on your LinkedIn in months, prospects are going to assume you have a spam account.
Stir a Conversation in a Group
If you're in the same group as your prospect, stir up a conversation and be active in your shared community. This helps them recognize your name and further establishes you as a leader in your industry. 
Engage with their content
You should have a LinkedIn follow strategy, so, follow your prospect. But after following them, spend some time engaging with their content. Like their articles, post comments on their posts, and show a genuine interest in what they publish. 
This will help your name appear more often on their page so when you do reach out, you won't be unknown. 
Best Ways to Approach a Prospect on LinkedIn
There's no one right way to approach a prospect on LinkedIn. Your approach will depend on your industry, offer, and the demographic you're targeting. The best way to reach out is by InMail. This is a premium feature that helps you to message LinkedIn users you're not connected to. Without the premium option, you need to have a connection to message other users.


We've talked about the features of a good pitch and what to do before you reach out, but here are some quick tips to give your sales message a higher chance of being read:
Try to get introduced by a mutual connection. 
Mention something you have in common (e.g. a LinkedIn group, a conference you attended, a mutual colleague, etc.). 
Send a genuine note of appreciation for a recent article or project they've done. 
Highlight the benefits of your offer and the value to your prospect. 
Best Sales Pitch Templates to Use on LinkedIn
Although each sales pitch needs to be well-researched and personalized to the prospect, having a template you can work from will save you time with each lead. 
How you word it and the language you use will be unique to your brand, but here are a few LinkedIn message templates to inspire you. 
Hello #Name#, I see you have great experience in the IT solutions & integration business. Let's connect
Regards, [SENDER NAME].


Hi, #Name# Thanks for adding me. My name is [SENDER NAME] and I'm running a business with partners in [REGION NAME] in [COMPANY NAME] company.
Let's stay in touch.


Hello #Name#, I see you have great experience in the telecommunication business.
Let's connect
Regards, [SENDER NAME]


Hello #Name#, I see you have great experience in the telecommunication business. I'm driving business for in [REGION NAME] in Ivideon company.
Let's connect!
Although getting a reply on LinkedIn is a good goal, your marketing specialist or sales manager might want to set up a chat correspondence with the prospect. Here's a template for that:


#Name# I rechecked your profile and company portfolio, and it seems your company looks like an interesting experienced potential partner for us and our product – [Product name] Also, please check the product deck attached [LINK TO DECK / VIDEO]


Just for your information – [COMPANY NAME]  – the World's leading ………. we provide [SOLUTION DESCRIPTION] businesses of any size.


We are leaders now in [SOLUTION DESCRIPTION] and our partners getting access to the super-reliable top-product and able to seriously improve our partners' product portfolio: [BENEFITS DESCRIPTION]
#Name#, I'm ****expanding now our partner's program and providing really exceptional terms & conditions for new partners in your region. Are you open for a quick chat?
Scheduling an online meeting
In-person meetings can be a little harder to secure, but they do lead to higher conversions overall, so here's another option:
Hi #Name#,
This is [SENDER NAME]. I'm the [YOUR TITLE] at [YOUR BUSINESS]. Are you currently using [COMPETITOR PRODUCT OR SERVICE]?
We've just launched [YOUR PRODUCT OR SERVICE] and it actually [STATS OR USP]. Why don`t we arrange a meeting online and discuss a quick demo if you're interested?
Let's connect
Regards, [SENDER NAME]
Try to stay friendly and polite in contacting your prospects through this platform. Short emails lead to better click-through rates, especially when the call to-actions are visible. In the US, the perfect headline for a mail is: brief, personalized, interesting, with offer value and urgency. (On average +11%) Avoid click bait. Include keywords. 
Automate LinkedIn Prospecting
There is so much spam and noise on LinkedIn these days that cutting through and showing you're a valuable business investment is tough. You'll spend time testing and tweaking sales pitch templates but once you get it right, the lead generation process becomes easy. 
Of course, there's no point crafting sales pitches with no leads to send them to. 
With GetSales.io, we'll automate your lead gen process so you get qualified leads from LinkedIn every single month. With hundreds of hot leads every month, it's easy to craft a high-converting sales pitch. Get a FREE trial. We provide you with a top toolkit to keep the data in one place automate routine work and track performance.