If you're looking for professional email addresses while using LinkedIn and Sales Navigator, this guide will help you find them quickly and easily. No more spending hours; now, it's minutes, not hours.
Wondering where to find professional and company emails from LinkedIn prospects? Our email finder guide simplifies this process.


If your prospecting efforts involve LinkedIn or Sales Navigator, then this guide is precisely what you need.
 
No more needle-in-a-haystack. Trust this guide!
How to find someone's email address on LinkedIn?
Whether you're in search of 1 or 1000 email addresses at this very moment, there is a well-defined method to find them, whether through manual or automated means.
How to find any email address manually on LinkedIn
Here's a detailed rundown of the traditional approach for locating someone's email address:
Step 1: Visit individual LinkedIn profiles.
Step 2: Check "Contact info" in the "Contact info" section.
Now, let's initiate with the easiest method. 
On Eugene's profile, you can find his personal email address in the contact information section. It's worth noting that not all LinkedIn users are willing to share their contact information in this manner.
In addition to the primary contact information section, there are discrete places on LinkedIn where you might come across email addresses: 


Profile banners: Some LinkedIn users boldly feature their work email addresses here, indicating their readiness for contact.
LinkedIn bios: In the 'About' section, certain users may include their professional email addresses to streamline the connection process.
      Keep in mind
       Users decide whether to share their email on their LinkedIn profile.
How to find email addresses on LinkedIn automatically
When you're pressed for time, GetSales can be a lifesaver. It helps you effortlessly extract hundreds of qualified and professional email addresses on a recurring basis.
Wondering how this is possible? To get started with this approach, you'll need a free GetSales account which you can create by signing up for free today.  


For a glimpse of automation's power, watch our video tutorial.
Use case: How to find hundreds of professional email addresses on LinkedIn?
Discover how to find hundreds of professional email addresses on LinkedIn for targeted outreach.
Start by signing in to LinkedIn in your browser. 
Here's how you create a Sender Profile:
1. Go to the Settings from the side-bar menu
2. Click 'add new Sender Profile'.
3. Fill in accurate information about the First and the Last name of the LinkedIn Account
4. Click 'Create Sender Profile' and that's it!
5. Subsequently, you have several methods for selecting the profiles you wish to scrape. Here are three specific approaches: 
– Importing people profiles using LinkedIn Basic Search. Copy the link from the address bar. The search link should start with www.linkedin.com/search/results/people
– Create a search in Sales Navigator using required filters and keywords. Copy the link from the address bar. The search link should start with www.linkedin.com/sales/search/people
– Provide the CSV file that includes a list of LinkedIn profile URLs. 

You can find more about contacts here. 
Your reward? A contact list complete with verified emails, plus email status (work or personal), will be in your hands.
Besides email, you can also find social profiles and check the status of phone numbers.
Set up a weekly search called "My Network Search" with your preferences. It'll automatically find leads, including those who connect with you without your request, so you never miss out.
Make a weekly search that happens automatically and follows your rules.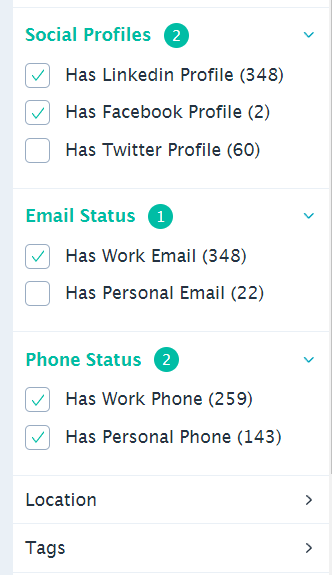 That's the end of the road for this blog. Take care, and happy reading!